An Evolving Mission
A non-profit organization known as Brandywine Shad 2020 was founded in 2017 by riverside residents Hunter Lott and Jim Shanahan of Wilmington, Delaware. The group was instrumental in enlisting a broad coalition of partners (more about that below) with a common objective: work towards removing the impediments to shad migration in the Delaware portion of the lower Brandywine. The impediments are primarily a number of old industrial dams no longer in use.
After efforts by the coalition and others, success was measurable. The removal of one dam in Delaware and one in Pennsylvania clearly demonstrated that the hoped for results were in fact achievable — and that the payback warranted the effort.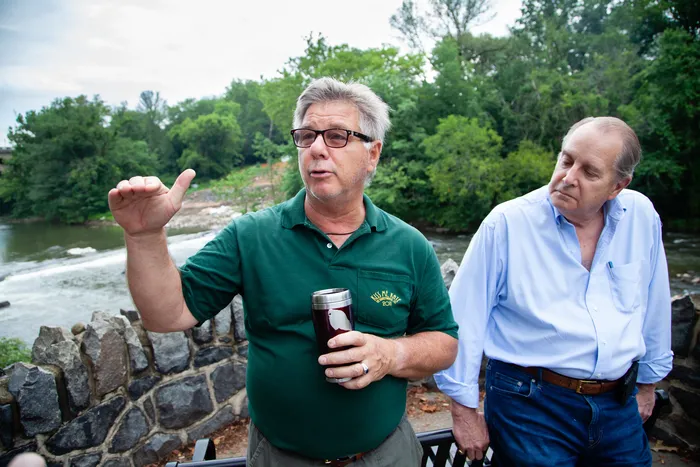 Brandywine River Restoration Trust founders Jim Shanahan (l) and Hunter Lott III (r)
BRRT Goal: Restore and protect the Brandywine River to enable migration of American Shad and improve ecological function while providing equitable opportunity for environmental education and recreation
It also became evident that advocacy groups such as Brandywine Shad 2020 that have been working separately in Pennsylvania and Delaware could gain considerable synergy by coordinating their efforts more closely.
In addition, goals indirectly related to restoring shad migration — such as ecological improvements, stream beautification, natural resource utilization, long-range maintenance and sustainability — could be realized simultaneously.
And so this natural, organic evolution has lead Brandywine Shad 2020 to be renamed Brandywine River Restoration Trust. The new name is more reflective of the broader long-range objectives. As the work and research continues, those involved in the effort are learning things about urban, highly dammed waterways that could inform work in other parts of the state and the larger Delaware Bay and River watershed.
Participants & Supporters
Brandywine River Restoration Trust has had no employees, relying instead on a four-person Board of Directors, the University of Delaware, partner environmental organizations, government agencies, engineers, consultants and volunteers.
We have enjoyed significant success in raising funds. With no paid staff or fundraising consultants, we have raised over $1.5 million and completed the many goals identified in our past grant awards.
Since 2017, thousands of hours have been volunteered for outreach, public education and gaining citizen involvement with our goal of restoring American Shad to the Brandywine River. These efforts have resulted in awareness of and support for our mission. Excitement for what we are trying to accomplish is growing.